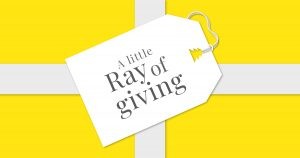 Every Christmas since 2013 Ray White Yorke Peninsula continues its popular tradition of giving with the little Ray of giving Campaign.
A little Ray of giving is Ray White's very own community charity initiative where Ray White Yorke Peninsula get behind disadvantaged families in our local communities & put a smile on their faces at Christmas time.
The inspiring Christmas campaign sees Ray White Yorke Peninsula partner with Rotary to provide Christmas gifts to help disadvantaged families who may need a little extra light in their festive season. We at Ray White Yorke Peninsula ask members of the community to embrace the giving season & dig deep for children & families in their community who need it most.
This gift drive is a really simple way to help put a smile on the face of children & families who may need some extra cheer at this time of year & all you need to do is drop a gift of gifts under the tree at one of our Ray White Yorke Peninsula Offices.
Thousands of gifts have been donated locally to less fortunate children thanks to this partnership between Ray White Yorke Peninsula, Uniting Care and the amazing generosity of our community members.
The Christmas initiative is run throughout December each year & is about local giveback at such an important time of the year.